Effective Resume - The Resume Format
The Effective Resume Format - Chronological or Functional?
© David Alan Carter
All Rights Reserved
When you get right down to it, prospective employers simply want to know what you can do for them. To a large extent, they will answer that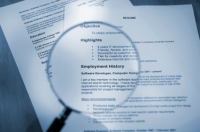 question by evaluating your work history: what you have done, how well you have done it, and for how long. Organizing that information on an effective resume breaks down generally into one of two formats: a chronological resume format or functional. Each resume format carries baggage, and which one you decide to use should be dictated by your individual circumstances.
The Chronological Resume
To Professional Resume Writers, the most predominant resume format is the chronological--and for good reason (which we'll get to in a moment). It plays out just like it sounds: it follows your work history in reverse chronological order, backward from your current job, listing companies and dates and responsibilities. The past ten years of experience is considered to be the most important. Experience prior to that should generally be left off the chronological resume format –unless that experience happens to be particularly relevant to the position you're seeking, so much so that it outweighs your more recent work.
Key points to keep in mind for the effective chronological resume format:
Emphasize (bold, and slightly larger typeface) your job titles over the company name, unless the company happens to be The New York Yankees and your titles have names like Assistant to the Traveling Secretary (i.e., George Costanza of Seinfeld fame). In which case, swap the emphasis.
When detailing your experience under each title of the chronological resume, stress the big stuff and try to couch it in terms of accomplishments. Leave off the mundane–a lot of job responsibilities are simply understood.
Don't repeat details that are common to multiple positions. Work to find some uniqueness in each job.
List first (prioritize) those accomplishments that are most relevant to the position you are currently seeking.
For each job title, I like to write a couple of lines to sum things up, then follow with a short series of bullet points that each identify a particular achievement–quantified with numbers when possible (e.g. "reorganized department and streamlined workflow generating an operational savings of $150K annually," or "supervised welding crew of three to deliver key contract 20% under budget," or "organized student career day resulting in a 95% parent participation"). Don't go overboard–more than 5 or 6 bullets, and your reader will start to lose interest. Continue in this manner throughout your prior titles. It's probably a good idea to show a slightly increasing number of bullet points--accomplishments--as time has progressed (i.e., three bulleted accomplishments under a job title from ten years back, 5 or 6 bulleted accomplishments from your most recent title).
The Functional Resume
A lesser used resume format is the functional resume: instead of highlighting company names, job titles and employment dates, it draws attention instead to skill sets and achievements. These are divided into 2-4 functional areas, or areas of specialization, that the writer feels would best demonstrate his or her value to a prospective company. Each area of specialization would identify specific achievements relevant to that area and float independently of the companies and titles associated with that experience. Such achievements are commonly posed via bullet points; 3-6 under each functional area should do it. To give you an idea, areas of specialization might include the following:
Sales, Customer Relations, Territory Management [for a sales professional]
Planning, Product Development, Market Management [for a marketing professional]
Software Design & Development, Training, Consulting [for an IT professional]
There are no hard and fast rules when it comes to selecting these functional areas, other than keeping them relevant to the desired position. So start by focusing on your desired position; research it, contemplate it, sketch out 2-4 areas that would fit hand-in-glove with that position. Now scour your work history, lift out achievements and drop them into the most appropriate of these areas.
And by the way, a reverse chronology of company names, job titles and dates should still be included, just pushed toward the end of the page and made less conspicuous by lack of detail. They need to be somewhere on the effective resume in order to provide the reader with a likely and credible source for some of the fantastic things he's reading about you. Set up this streamlined chronology under the heading Work History or Employment History, and place it beneath the areas of specialization.
Who Should Use What?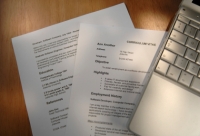 The chronological resume is the most effective resume format when one's work history is stable, professional growth consistent, and career goals remain in the same employment field.
Conversely, because skill sets and tailored accomplishments are emphasized over employment chronology, the functional resume format has value especially for those who have gaps in their work history, or who have switched jobs frequently, or when current responsibilities don't relate to a desired job. The functional format makes sense for someone looking to jump start a new career in a new field, or whose volunteer or non-work experience may be of more value to a prospective company than that demonstrated by a spotty or non-existent work record. But there is a caveat...

At some point... in the resume writing process you're going to be asking yourself, "Should I have a professional do this?"
The answer may be yes... if your resume is going to be fighting for attention in an extremely competitive field, or if your work history or job qualifications are difficult for you to express in a promotion and unbiased manner.

Former recruiter David Alan Carter can help you identify that "pro," that special writer who is qualified to deliver a polished document that puts your best foot forward in a tough job market. Carter put the Web's most popular resume writing services through their paces – comparing writing quality, customer service, pricing and more. See who came out on top...
Think Twice Before Using A Functional Format
Those considering a functional resume should be forewarned. Many hiring officials have come to associate the functional format with a candidate seeking to hide some aspect of his work history.
And for good reason–many are trying to do just that. While it can still be an effective resume, choosing a functional format will send up a red flag in the eyes of many employers, something your resume will have to overcome from the get go.
Remember, as mentioned in the Top 10 Checklist, resumes are initially used for screening... screening out folks! Only the writer can determine whether the benefits of the functional format outweigh that potential liability.
Where we go from here: Don't blow it in the first few words. Your resume objective is critical in keeping the hiring official reading your resume. So.. let's get deep into the Job Resume Objective.
David Alan Carter is a former recruiter and the founder of Resume One of Cincinnati. For more than ten years, he personally crafted thousands of resumes for satisfied clients from all occupational walks of life.


Back To Top