Grad Level / Mid Level / Executive
$119 $249 $399
Views and Opinions
by David Alan Carter
Online since 1998, ResumeEdge.com
is the chosen resume partner for Yahoo! HotJobs, the Wall Street Journal's CareerJournal.com, and numerous other career services providers. Not to mention the U.S. Air Force. Not bad company to keep.
With over 50 resume writers and career coaches specializing in 40 different industries, the company is one of the leading resume writing and editing services online. Indeed, they've written over 100,000 resumes. And through it all, they've maintained a 98% customer satisfaction rating.
How It Works:
Select the resume writing service if you need a resume built from scratch. Tip: If you have an existing resume that is simply not generating results, consider their resume editing service -- and a savings of more than 50%. Pay online for the service, complete their exclusive questionnaire detailing your strengths and accomplishments, and upload your existing resume, if you have one.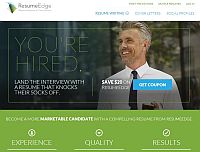 A writer in your area of specialty will contact you to arrange and conduct a personal phone interview. The resume is prepared within 48 to 72 hours after assignment to your writer. Your order is then accessible via the ResumeEdge customer control panel.
After your resume has been delivered, you have 7 days to continue working with your writer one-on-one, via phone and email, if need be for any changes or corrections.
Here's What We Liked:
They use Certified Professional Resume Writers, as one would expect for service at this caliber, employing a network of over 250 writers throughout the country. But their writers bring more to the table: practical, real-world experience from some of the largest companies in the U.S.
Work one-on-one with your writer. The telephone interview is an integral part of their business model, for which we give high marks.
Option to select your resume's design from their extensive gallery, or have your writer determine the layout best suited to your experience and goals.
The resumes are keyword optimized for easy scanning by potential employers and online searchers.
Free ASCII version of the resume, in addition to the standard Microsoft Word format.
Sample resumes are available on the web site to give you an idea of the quality of writing. We like what we saw.
Pricing is reasonable.
Resume Edge Review - The Wrap Up:
In summary, you've got to appreciate the fact that the venerable and high selective Wall Street Journal gave these writers the nod and partnered with them on their online publication CareerJournal.com. That speaks volumes.
As with all of our reviews, this is our opinion--we always advise readers to do their own due diligence. But we believe they deliver a top notch product, excellent customer service, and solid value. And we deliver a top rating, and have no problem recommending their services.
Go to ResumeEdge.com

NOTE: This website is monetized through the use of Affiliate Programs with the online resume service providers we review. Read our Disclosure Statement for more information on our reviewer, and our Affiliate Relationships.

Back To Top
Go back to "Reviews of Resume Writers"